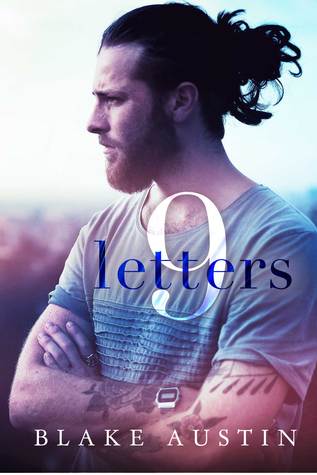 Title: 9 Letters
Author: Blake Austin
Buy Links: Amazon
Rating: B
Synopsis

Luke Cawley is a broken man. After his wife's tragic death, he lost everything that mattered in the world. Now, his life is filled with hard days, harder nights, and a steady stream of alcohol and the wrong kind of women. Nothing helps.

Until the letters arrive on Luke's doorstep.

Nine envelopes. Nine messages. Nine chances to find his way back.

Rae Goode is looking for the real thing. After fighting her way out of a string of bad relationships, she's ready for something different–something true. She meets Luke while piecing her life together, and right away she can tell that he's different. Drawn together by fate and the desire to heal, Rae and Luke discover new ways to mend their broken hearts–one letter at a time.
When the request came through my blog to review 9 Letters, I was immediately intrigued by the its blurb. There's nothing I'd like more than a broken man trying to move on from a tragic event in his life with the help of a good woman, and on one hand, this book was about that. But on the other hand, it wasn't.
9 Letters is genre-bending debut novel by Blake Austin. I say genre bending because while there was a strong romantic element in the book, it wasn't quite romance in my opinion. It's not necessarily a bad thing; it's just different. It certainly didn't follow the usual romance convention and I was okay with it because it served the story well.
I needed to learn to accept who I was. Where I was. Single, widower. Bartender. Homeowner. Dog owner. Volunteer. Terrified wreck.
Luke Cawley lost his wife, the love of his life, and he finds himself unraveling, not being able to handle the loneliness and the grief he felt at her passing. The book shows snippets of Luke's life prior to the death of his wife. It made for a stark contrast to his present state of mind. The story really picked up pace the moment Luke received the letters from his deceased wife. They became the catalyst for his eventual recovery, so to speak.
One of the things that I really loved about this book was the way the author showed how it can take over your life.  And when I say showing, I meant the author "showed" it as opposed to just telling it. You could taste Luke's sadness jumping off the page that there are instances where I had to put the book down because I was overwhelmed by what the character is going through.
You can't destroy the memory of someone, not without destroying a bit of yourself.
But it's not all sadness and dreariness. There were some life-affirming and touching moments, too. We get to see Luke's happier times with his wife and then later on, we get to see him move on on his own terms. But he had to deal with a lot of things. He had to fix the things he broke including his relationship with his family and Emily's family. Same goes for the people in his life, namely his co-workers. It was painful and not at all easy to read but the emotional payoff was worth it.
Now I have to warn all my romance-loving friends about the romance. Like I said previously, you're not going to get a straightforward romance here. In some ways, you're getting two romances. First, with Emily, his first love and then with Rae but I feel the connection between Emily and Luke more. This is probably because we're in Luke's head and for the better part of the book, Luke was dealing a lot about his feelings. We do get a lot of Rae and Luke too but in a way, their relationship isn't as developed. But I actually respected how that's dealt with because it would have felt fake and forced if Luke was suddenly diminishing or undermining his first love. It never happened. His relationship with Rae was just different.
I did wish that Rae was a bit more developed though. I wasn't able to connect deeply with her. Maybe because the book was told in Luke's POV that's why I couldn't connect. And while Emily was essentially a dead character in the book, we get her letters which revealed a lot about her. Rae being shown through Luke's POV was good but I was looking for more.
I'm hoping this won't the end of Blake and Rae though. The book ends on a happy-for-now note, which again fits with the whole narrative, but I want more. I want to have a chance to fall in love with Luke and Rae as a couple. Plus, there's this one storyline which I needed closure on. I'm not going to give details but it involved [su_spoiler title="SPOILER" icon="chevron-circle"]another woman[/su_spoiler]. I should clarify that we do know what happened but I wasn't convinced that that was all there is to it. Maybe in the book, hmm?
<i>ARC provided by the author in exchange for an honest review</i>