Title: Lawless
Author: TM Frazier
Series: King #3
Rating: B-
Thia is prim and proper.
Bear is leather and lawless.
It will never work between them.
It's a lie they almost believe…
It is necessary to first read King and Tyrant to fully enjoy Lawless.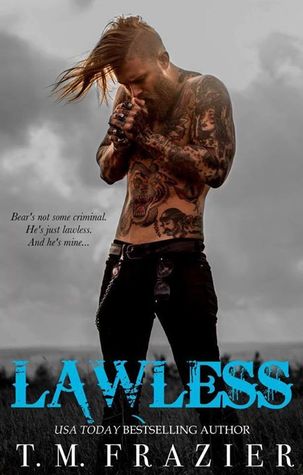 A word of caution before you start this book: Do not start reading Lawless when you have an early appointment the next day. Trust me on this. I started this thinking I'll just read a few chapters before I go to bed. Welp! I ended up pulling an all-nighter because I could not put this book down.
Lawless follows the events of the previous books. We've already met Bear. We know what happened to him, how the events in the King & Tyrant affected him greatly. Lawless goes a little bit deeper into Bear's back story. It's revealed in the prologue that during his time with the club, Bear met a young girl, Thia. She was someone that Bear made a careless promise to, not knowing that that promise would have a far reaching effect on his life and the life of that girl.
If you've read King and Tyrant, you know that TM Frazier doesn't pull any punches when depicting sex and violence in her books. Lawless had plenty of those and then some. It was a full on throttle, action packed, rollercoaster ride.
Thia, like Doe before her has had a heartbreaking life. Her life was marred by tragedy. She clung to a promise not knowing that it would lead to even more tragedy for her. I really felt for Thia but some of her decisions defy common sense. Granted that was in a stressful situation and anybody who went through the same thing would probably act like she acted. But she never reached that place of realization or that place where she stopped and really started to think and plan. Instead both her and Bear made one rash decision after another, which made it really hard for me to sympathize or feel sorry for them.
Overall, this was good read. The story had a lot of potential, and I can definitely say that it's unputdownable. But it didn't quite get to where I was expecting it to go. There were moments when I thought it would reach the epic scale but then the characters would do something inexplicable and the story would just dive into mediocre territory once again.
Nevertheless, the positive things I feel for this book still outweighed the negatives. I'm looking forward to see the next book to see where TM Frazier takes Bear and Thia's story.
T.M. (Tracey Marie) Frazier resides in sunny Southwest Florida with her husband and three feisty fur kids
She attended Florida Gulf Coast University where she specialized in public speaking. After years working in real estate and new home construction, she decided it was finally time to stop pushing her dreams to the back burner and pursue writing seriously.
In the third grade she wrote her very first story about a lost hamster. It earned rave reviews from both her teacher and her parents.
It only took her twenty years to start the next one.
It will not be about hamsters.
Stalk Her: Website, Facebook, Twitter, Amazon, and Goodreads.