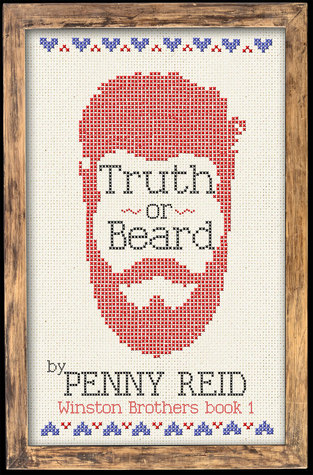 ♥ SYNOPSIS ♥
Beards, brothers, and bikers! Oh my!

Identical twins Beau and Duane Winston might share the same devastatingly handsome face, but where Beau is outgoing and sociable, Duane is broody and reserved. This is why Jessica James, recent college graduate and perpetual level headed good girl, has been in naïve and unhealthy infatuation with Beau Winston for most of her life. His friendly smiles make her tongue-tied and weak-kneed, and she's never been able to move beyond her childhood crush. Whereas Duane and Jessica have always been adversaries. She can't stand him, and she's pretty sure he can't stand the sight of her…

But after a case of mistaken identity, Jessica finds herself in a massive confusion kerfuffle. Jessica James has spent her whole life paralyzed by the fantasy of Beau and her assumptions of Duane's disdain; therefore she's unprepared for the reality that is Duane's insatiable interest, as well as his hot hands and hot mouth and hotter looks. Not helping Jessica's muddled mind and good girl sensibilities, Duane seems to have gotten himself in trouble with the local biker gang, the Iron Order.

Certainly, Beau's magic spell is broken. Yet when Jessica finds herself drawn to the man who was always her adversary, now more dangerous than ever, how much of her level-headed heart is she willing to risk?
In all honesty, I'd enjoyed the horse ride more than the man ride. At least the horse had been a stallion. Looking back, my lab TA was more like a Shetland pony—hairy and small."
snort
And just like that, I fell for this book hook, line and sinker. I've always loved humor in my books, and in Truth and Beard, Penny Reid dispenses it deftly and liberally.
Truth and Beard is the first book off of her Winston Brothers series, which is a spin off of her wildly popular Knitting in the City series. While the Knitting in the City series is more focused on the group of women who bonded over their love for knitting (of course), the Winston Brothers is more focused on…the Winston brood (well, duh). The Winston brothers were all introduced in Beauty and the Mustache and I've been waiting for their stories ever since. With their gorgeous beards, good looks and strapping physique, the Winston brothers have a bit of reputation in Green Valley.
First up is Duane Winston. Duane has been in love with Jessica James ever since she threw his swim shorts up in the tree after he'd dunked her in the lake. But Jessica has a thing for his twin Beau instead. Things changed after Jessica came back to Green Valley to teach high school calculus. A simple case of mistaken identity had Jessica rethinking everything she knew about Duane. But Jessica isn't staying long in Green Valley and Duane isn't planning on leaving anytime soon.
"You can't just go around giving people cars. You're not Oprah."
Duane's lips flattened in a way that made me think he was trying not to laugh because his eyes were shining."What gave me away? Was it the red hair?"
Without thinking, and in a way reminiscent of our bickering childhood, I responded flatly, "No. It was the feel of your circumcised penis last week."
Told in dual POV, readers get to live inside Jessica and Duane's head. We get to know the depth of their feelings for each other and the length they're willing to go through for each other. Duane was a revelation. I enjoyed his POV the most. He's loyal, funny and smart, and he loves Jessica and is willing to support her and understand her.
I liked Jessica too but she lives in her head way too much. I'm not saying being in her head isn't enjoyable because it was, but I just find her POV a bit bland compared with Penny Reid's other heroines. Her dreams of traveling the world and not having roots are something I couldn't relate to. But it's the only thing I really found interesting about her. I couldn't quite put my finger to it. Maybe Duane's POV is just so overwhelmingly good that Jessica's paled in comparison. But that's just me.
And for those who like their book on the steamy side, this one is definitely on that side. Probably not as graphic as other books out there, but it's steamy enough to satisfy my inner perv. Of course, my inner perv also spent a huge amount of time laughing her ass off because even during those steamy moments, Penny still managed to make me laugh.
So even though I just finished the book, I'm already looking forward to the next book in this series and the next and the next. Truth be told, I'd love to gobble them all up right now. But like all good things, there's waiting to be had.
Truth and Beard goes live on July 23rd. You can pre-order on Amazon or iBooks. Go ahead, click that pre-order button now. You won't be sorry.
RATING