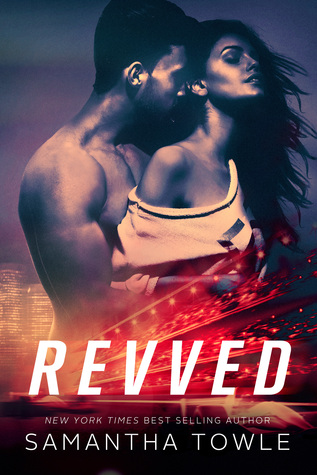 ♥ SYNOPSIS ♥
Race car mechanic Andressa "Andi" Amaro has one rule—no dating drivers. With a good reason behind the rule, she has no plans on breaking it.
Carrick Ryan is the bad boy of Formula One. With a face and body that melts panties on sight, and an Irish lilt that leaves women on their knees, begging for more. He races hard and parties harder. The youngest driver to ever sign with F1, he's still at the top of his game five years later, breaking hearts on and off the tracks.
When Andi is offered her dream job working in the glamorous world of F1, she leaves her home in Brazil, positive she can handle working for Carrick. But she's not prepared for the off-the-chart sparks that fly the moment they meet.
Now, Andi has a crush on the one man she can't have, and her resolve is about to be put to the test, because Carrick has decided he wants Andi, and he plans on testing her to the very limit…
♥ my review ♥
Don't you just love it when you pick a random book off of your TBR 'mountain', start reading it and falling hopelessly in love with the story and the characters despite the fact they drove you crazy with their actions? This happened to me with Revved.
Full disclosure: I wasn't planning on reading this book at and based on the reviews from some of my trusted friends on Goodreads, I wasn't expecting to even like this book let alone loved it. But I did. The writing, the biting angst, the steam and its flawed characters made this a winner for me.
This was my first Samantha Towle book and I've been mentally facepalming myself for not trying her books before. I just loved the angst and the back-and-forth between Andi and Carrick. Despite my personal misgivings, I ended up loving and rooting for Andi's character. Andi is not only a mechanic but she's also the daughter of a racing legend. After witnessing the tragic death of her father at the Monte Carlo tracks , Andi and her mother left the racing world to move back to Brazil. Seeing how devastated her mother is, vowed not to get personally involved with a driver. But Carrick, Andi's new boss won't take no for an answer. Despite her fears, Andi capitulated to Carrick's charms.
But her anxiety caused by witnessing her father's accident took a toll on Andi and her relationship with Carrick. Oh my lordy, the angst. I totally understood Andi's pain. Anxiety and PTSD is seriously debilitating, and I think Samantha Towle did a phenomenal job with showing readers how it can affect a person's life. If it had been any other book, Andi's constant push against Carrick would have been annoying but here, I totally understood why.
Like my misgivings with Andi, I too, had a hard time warming up to Carrick. I thought he was an ass. And his blatant disregard for Andi's feelings by throwing other women to her face made me want to quit reading.  But he won me over. He went through hell trying to prove himself worthy of Andi. I didn't like some of his decisions. I thought he was entitled and whiny but like I said, he proved himself in the end.
In the end, the things that stopped me from reading this book ended up becoming my favorite aspects in the book. I'm so glad I gave it a chance. I'm definitely looking forward to reading the next book in the series and reading more from this author. 
Purchase Revved on Amazon and iBooks.