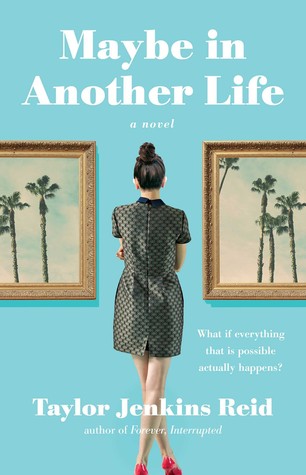 ♥ SYNOPSIS ♥
From the acclaimed author of Forever, Interrupted and After I Do comes a breathtaking new novel about a young woman whose fate hinges on the choice she makes after bumping into an old flame; in alternating chapters, we see two possible scenarios unfold—with stunningly different results. At the age of twenty-nine, Hannah Martin still has no idea what she wants to do with her life. She has lived in six different cities and held countless meaningless jobs since graduating college. On the heels of leaving yet another city, Hannah moves back to her hometown of Los Angeles and takes up residence in her best friend Gabby's guestroom. Shortly after getting back to town, Hannah goes out to a bar one night with Gabby and meets up with her high school boyfriend, Ethan. Just after midnight, Gabby asks Hannah if she's ready to go. A moment later, Ethan offers to give her a ride later if she wants to stay. Hannah hesitates. What happens if she leaves with Gabby? What happens if she leaves with Ethan? In concurrent storylines, Hannah lives out the effects of each decision. Quickly, these parallel universes develop into radically different stories with large-scale consequences for Hannah, as well as the people around her. As the two alternate realities run their course, Maybe in Another Life raises questions about fate and true love: Is anything meant to be? How much in our life is determined by chance? And perhaps, most compellingly: Is there such a thing as a soul mate? Hannah believes there is. And, in both worlds, she believes she's found him.
♥ my review ♥
So I'm having a difficult time reviewing this book because until now, I'm still grappling with that ending. I finished it in one sitting, which is always a plus but the ending left me wanting more. Maybe because I'm a romance reader at heart and the ending, while it can be considered HEA, it wasn't the ending that I really liked. It's hard to explain without really spoiling a lot of things and I'd rather not spoil the ending or the whole plot really. But if you've watched that movie Sliding Doors, then you already have an idea what this book is about more or less. It is similar to the movie in a way but not really. The book starts out with Hannah moving back to Los Angeles after a disastrous break up. She's 29 years old and feeling as lost as ever. She moves in with her best friend Gabby and her husband. That night, Hannah reconnects with her old high school boyfriend AKA the she never got over.
At the end of the night she had to make a decision, go back home with Gabby or go with Ethan? The book then takes the reader through two journeys: one where Hannah went back with Gabby and the other where she stayed with Ethan. Each of decision has a different outcome and affected Hannah and the people around her differently.
The story itself was interesting. It kept me up all night, flipping the pages eager to see where both Hannah's choices would take her. Hannah herself was very indecisive. She's very flawed and I had a hard time relating to her character. I couldn't quite put my finger to why this was the case. She was a bit bland to me and I actually found Gabby a lot more interesting. And yet her character made sense and her characterization fit with the overall story.
As for the ending, it was a surprise. I was expecting a more romantic ending to be honest, and until now, I still don't know what to make of it. In a way, it made sense and I agree with it but the romance reader in me wanted more. Let me be clear, there is a happily ever after ending here, but it's different. This book isn't really romance, which is why I hesitate recommending this book to hardcore romance readers. This is more about Hannah's choices and the consequences of those choices she made. But the premise is very unique and the ending was quite surprising that I can't help but encourage romance readers to give this book a chance.
So while there is a love story here, it's not the main focus, so in a way, like I said, the ending made sense. It's realistic and surprising, which is why I give this one 4 stars. Plus, TJR's writing is stellar as always.
rating