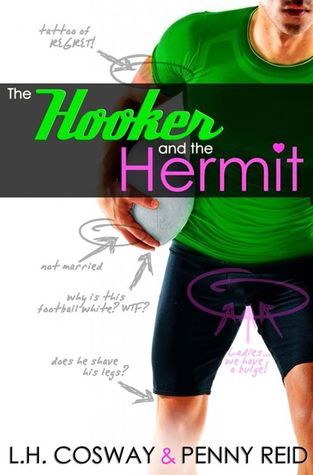 It is no secret how much I love Penny Reid's writing. As I've said before, she writes the kind of stories and characters I want to read. LH Cosway is a new-to-me author. Meaning this is my first book from her. Don't look at me like that. I plan to rectify that oversight in near future.
The Hooker and the Hermit is the first collaboration from these two authors, and I have to say that their writing style complemented each other very well. So it's no surprise that I enjoyed this one very much. 
Annie Catrel is a hermit by choice. She's very introverted and shy and doesn't do well in social situations. Despite that, she is brilliant at her job as the social media expert at one of the most prestigious media company in New York. And not only that, she is also the purveyor of a very popular celebrity blog New York's finest albeit in secret.
Ronan Fitzpatrick is hot up-and-coming rugby star who got suspended from his team after sending one of his teammates to the hospital. He's in New York to fix his image. Annie was assigned to him. But Annie's issues and double life as well as Ronan's secrets will be something that they have to overcome in order to achieve their happily ever after.
Annie have some deep-seated issues with abandonment. She's socially awkward but online, her personality shines through. This is where she ruled. Online is where she can be herself and be free from judgement. I loved reading about her quirks and her thoughts. Yes, she made some stupid decisions but I liked how she owned up to them. Most of all, I liked how her character grew.
Now Ronan on the other hand, I had a problem with at first. While I liked his fierce loyalty and protectiveness towards Annie, he was just way, way too aggressive. There were times when he was bordering on being a creepy inappropriate. Every time he opened his mouth, I would cringe. He made me very uncomfortable. I wasn't overly impressed with his innuendos towards Annie when they first met. I wanted to knee him in the balls really. But as Annie grew more comfortable with him, I softened towards him somewhat.
I loved how they both taught each other how to live. For Annie, Ronan taught her how to deal with her social awkwardness. He pushed her boundaries without abandoning her. And Annie needed to be pushed and Ronan was just the right person to push her. For Ronan, Annie taught him grace and control, not just in terms of his image but Annie had a calming effect on Ronan.
And oh, did I mention how much I adored how Ronan wooed her? Yes, it was too much but like I said, Annie needed to be pushed. Granted Ronan's moves needed a bit of a finesse but hey, he got the girl at the end.
Funny, endearing, sweet with a side of raunchy, the Hooker and the Hermit hooked me from beginning to end. I will definitely be reading more from these authors individually and as a team.
RATING: 4 Stars!
A copy was provided by the authors in exchange for an honest review.