More than a month ago, I read a book called Bad Romeo by Leisa Rayven. (Don't ask me how to pronounce her name 'cause I wouldn't know how.) Anyway, this is Rayven's debut novel.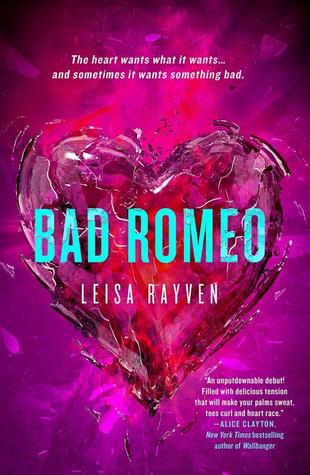 Prior to my reading it, it had been getting a lot of good buzz from the book blogging community. That got me excited. Plus, the blurb promised a very angsty read.
When Cassie Taylor met Ethan Holt at acting school, sparks flew. She was the good girl actress. He was the bad boy about campus. But one fated casting choice for Romeo and Juliet changed it all. Like the characters they were playing, Cassie and Ethan's romance seemed destined. Until he broke her heart and betrayed her trust. Now the A-list heartthrob is back in her life and turning her world around. One touch at a time.

Cast as romantic leads once again, they're forced to confront raw memories of the heartbreaking lows and pulse-pounding highs of their secret college affair. But they'll also discover that people who rub each other the wrong way often make the best sparks.
After I read that, I was like, "Oh yeah, this is gonna be good."
*sigh*
Unfortunately, it ended up being a big disappointment.
The first 25% or 30% or so of the book was really good. I was sucked in. The writing was above average, so although the characters were a bit annoying, I was okay with it. This is NA after all. Some of the characters are bound to get on your nerves.
But then 35%, 40% 50% 60% rolled around, and the same things just kept happening over and over again.
Cassie: I love your penis, Ethan.
Ethan: I'm not good for you, Cassie.
Cassie: My vagina wants you so bad, Ethan.
Ethan: I'm a douche, Cassie.
Wash.Rinse.Repeat.
Half of the book was basically Cassie obsessing about Ethan and her virginity. She might be a virgin but she's the horniest virgin I've ever. She's obsessed about Ethan and his peen. It was ridiculous. The dick jokes was cute and funny at first. But then after a while, it became annoying and the humor just felt forced.
Another problem I had with this book was the past and present storytelling. It would have worked if not for the uneven pacing and jarring transitions. The prose ended up being choppy and clunky. It also stopped me from fully enjoying the book because just when things start looking up, I'm being pulled back into the past.
Even then I could have enjoyed this book better if not for Cassie and Ethan. Honestly, I just couldn't connect with both of them. I don't get their attraction and I don't feel their chemistry. Their love story didn't make my heart pound. Their dysfunction stopped being endearing around 25%. The constant push-and-pull, hot-and-cold nature of their relationship was exciting at first until it wasn't.
I'm the kind of reader who can forgive character annoyances, jarring plot holes as long as I can connect with the characters. Unfortunately, Ethan and Cassie together just didn't work for me. Ethan was too cruel and unlikable and Cassie was too much of a doormat. Their connection felt forced.
And then there's that ending. Oh boy, that ending was just…I wouldn't even call that an ending. It seemed like the author just ran out of pages. It was abrupt and it came out of nowhere. Worst of all, we didn't get any answers as to why they broke up the first time. Yup, you read that right. We gleaned from their present interaction that Ethan betrayed Cassie twice. Twice. But by the end of the book, nothing was revealed at all. I would have been able to live with that cliffhanger if I had known what happened the first time.
That was the worst disappointment of all. Now I have to wait for the next book to get answers, and that blows. I don't I have the patience or the inclination to wait that long. By then, there will be other books, better books that will get my attention.
I wish I could give this more stars. As it is, I feel like 2 stars is generous enough. Leisa Rayven definitely knows how to write. It is evident that she knows the subject that she's writing about. Unfortunately, her characters were nothing but NA clichés.
How about you? Have you been excited about reading a book only to be disappointed? Would love to hear what you thought. 
And if you haven't read this one, I suggest you'd still give this a try. What worked for me may end up working for me. As of the moment, Bad Romeo has a 4.13 rating on Goodreads and 38 5-star reviews on Amazon. That's pretty high. It also means I'm in the minority with this one.
PURCHASE LINKS: Amazon US | B&N | Kobo | iBooks 
  And if you end up loving this book and would like to pre-order the next book Broken Juliet, here are the links.
PRE-ORDER LINKS: Amazon | B&N | iBooks | Indiebound 
That's it for me.
RATING: 2 Stars
**An ARC for Bad Romeo was provided by St. Martin's Griffin in exchange for an honest review.**