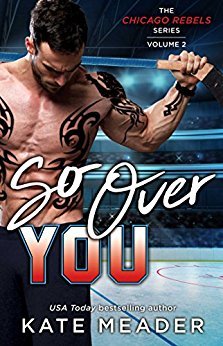 Summary
Three estranged sisters struggle to sustain their late father's failing hockey franchise in Kate Meader's sizzling Chicago Rebels series. In this second entry, middle sister Isobel is at a crossroads in her personal and professional lives. But both are about to get a significant boost with the addition of a domineering Russian powerhouse to the Rebels….

Isobel Chase knows hockey. She played NCAA, won Olympic silver, and made it thirty-seven minutes into the new National Women's Hockey League before an injury sidelined her dreams. Those who can't, coach, and a position as a skating consultant to her late father's hockey franchise, the Chicago Rebels, seems like a perfect fit. Until she's assigned her first job: the man who skated into her heart as a teen and relieved her of her pesky virginity. These days, left-winger Vadim Petrov is known as the Czar of Pleasure, a magnet for puck bunnies and the tabloids alike. But back then… let's just say his inability to sink the puck left Isobel frustratingly scoreless.

Vadim has a first name that means "ruler," and it doesn't stop at his birth certificate. He dominates on the ice, the practice rink, and in the backseat of a limo. But a knee injury has produced a bad year, and bad years in the NHL don't go unrewarded. His penance? To be traded to a troubled team where his personal coach is Isobel Chase, the woman who drove him wild years ago when they were hormonal teens. But apparently the feeling was not entirely mutual.

That Vadim might have failed to give Isobel the pleasure that was her right is intolerable, and he plans to make it up to her—one bone-melting orgasm at a time. After all, no player can perfect his game without a helluva lot of practice…
Review
This book wasn't just hot, it was also filled with great moments, funny banter, and solid character development.
Vadim Petrov and Isobel Chase had a thing between them during their teenage years. Their passion for hockey was as encompassing as their passion for each other. But things didn't really work out. They lost touch over the years until now. Vadim is playing for the Rebels and that means being in close contact with Isobel.
So Over You has top-notch romance and the sizzling chemistry between Vadim and Isobel can't be beat. It just leaps off the page. There's a depth of emotion to this book that took me by surprise. Isobel was as much a victim of her father's control as Harper was but in different way. While older sister Harper was dismissed and ignored, Isobel had her father's approval, that is as long as she continues to follow the path he's laid out for her. He totally made use of her love for hockey to extend his legacy. He was an unconscionable ass, and my heart felt so much for Isobel. The pressure she went through especially after her injury knowing that she's lost not just her dreams of playing hockey but her father as well.
And Vadim!! Gah! He was exactly what Isobel needed then and now. He suffered too. And some of my favorite parts of the book involved Vadim and his family. Yes, he's romance-hero perfect but there's so much more depth to him. His earnestness and the way he loves Isobel is what made this book for me. And I loved that he wasn't perfect. He made some boneheaded decisions but as a reader, his motivations are clear that you understand.
These two together lit up the pages for sure. Everything, from the banter to their teasing and their sexy times, was perfect and came alive in the page. Kate Meader certainly know and love these characters. It's the only explanation I have for how these characters were intricately written, their actions and motivations so in sync that once I started reading, I just couldn't stop. The story, the romance was just well done.
This series is definitely shaping up to be one of my favorites this year. I'm so looking forward to Violet's story now. And Dante's! Oh my gosh, he was a standout in this book. He was introduced in the first book but it was in this book where he really stood out. And I'm so happy that Kate is giving him a book of his own because gah! I want his story so much.
ARC provided by the publisher in exchange for an honest review.