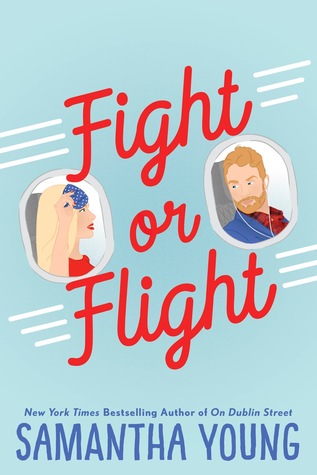 Fight or Flight

by Samantha Young
Published by Piatkus on October 9th 2018
Genres: Contemporary Romance
Pages: 288
Goodreads



A series of chance encounters leads to a sizzling new romance from the

New York Times

bestselling author of the On Dublin Street series.


The universe is conspiring against Ava Breevort. As if flying back to Phoenix to bury a childhood friend wasn't hell enough, a cloud of volcanic ash traveling from overseas delayed her flight back home to Boston. Her last ditch attempt to salvage the trip was thwarted by an arrogant Scotsman, Caleb Scott, who steals a first class seat out from under her. Then over the course of their journey home, their antagonism somehow lands them in bed for the steamiest layover Ava's ever had. And that's all it was--until Caleb shows up on her doorstep.

When pure chance pulls Ava back into Caleb's orbit, he proposes they enjoy their physical connection while he's stranded in Boston. Ava agrees, knowing her heart's in no danger since a) she barely likes Caleb and b) his existence in her life is temporary. Not long thereafter Ava realizes she's made a terrible error because as it turns out Caleb Scott isn't quite so unlikeable after all. When his stay in Boston becomes permanent, Ava must decide whether to fight her feelings for him or give into them. But even if she does decide to risk her heart on Caleb, there is no guarantee her stubborn Scot will want to risk his heart on her....
I finished this book a while ago but I had sat on my rating and review for days because I am honestly conflicted. On the one hand, Fight or Flight was compulsively readable. It was well paced and well plotted with great dialogue, and the chemistry between Caleb and Ava was undeniable.
That said, I thoroughly disliked the hero, Caleb Scott. I don't care if he's the hottest thing in the universe but his motivations did not wash. It was a measly excuse for his behavior, and considering he did not grovel did not endear him to me at all.
Listen, I'm all for an asshole hero. But Caleb wasn't just an asshole. He was cruel and mean most of the time. And the reason for his behavior was utterly ridiculous. I can get behind an asshole hero if I can understand his motivation. To be fair, we were given the reason for his actions. My problem is that I wasn't on board with it. I found his motivation shallow and a cliche. Like yeah, your ex-fiancee lied to you but is that a good enough reason to treat the heroine horribly?
I didn't think so. It's a motivation that's been done to death. And when you consider his age and the fact that Ava has nothing to do with his ex, his reasons doesn't hold up even more. I probably would've been more forgiving if Caleb had done emotional labor throughout his relationship with Ava. But he didn't, despite being the one in control. What I mean is, he was the one who always sets the parameters. He decided to be friends with Ava but only on his terms. The moment she pushes for emotional connection he runs the opposite way. It was exhausting. And the way he doles out his attention and his affection made me uncomfortable because it raises so many red flags for abusive behavior. I know, I know. This is fiction but that doesn't mean I have to accept it or be comfortable with it.
Like I said, I just found his behavior irrational and unfair to Ava. She has nothing to do with what your ex did. There's no reason to punish her because she made you feel things. And no one even called him out for his irrational behavior. Everyone including heroine kinda accepted it and excused him for it. Yeah, yeah. He was hurt and all but how is that the heroine's fault again? And the whole, "I'll be mean to you so you won't fall in love with me" made me roll my eyes so hard. It's so cliche and only works if your character is like 12 years old or something.
So yeah, ruined it for me. The best bit of this book is Ava's friendship with Harper. These two girls are the best. I enjoyed their interactions more than I did Caleb's. Samantha Young has consistently written complex female characters and friendships, which I loved. And despite her unfortunate attraction to Caleb, I actually liked Ava a lot. She remained resilient despite being abominably by the two men she'd chosen to give her heart to. She deserved better than Caleb.
But that's just me. I'm getting old and cranky and annoyed at man babies who can't get shit together until the last minute and doesn't even grovel. Ava was too good and deserve better is a hill now and I still sit on this hill with other readers who thinks the same. Lol.