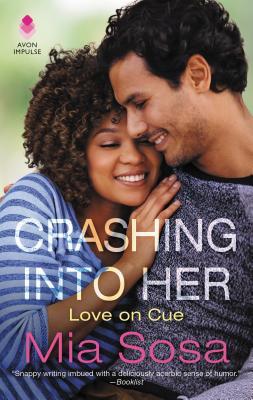 Crashing into Her (Love on Cue, #3)

by Mia Sosa
Published by Avon Impulse on February 19th 2019
Pages: 384
Goodreads


Relationships are a thing of the past for Eva Montgomery. Her current motto? You can't spell "manipulative" without man. But Eva has needs, and a one-night-stand at her best friend's wedding is the perfect way to kick off her new approach to singledom. Then a job opportunity puts her in the same city with the guy she can't forget . . .
Anthony Castillo is a perpetual bachelor—no strings, just flings—a status he maintains by being honest about his intentions and never looking back. So why is he still thinking about the firecracker of a woman who rocked his world at his cousin's wedding? It's a question he refuses to answer, until she comes crashing back into his life, taking his emotional walls down with her.
When her father doubts her ability to make it in LA, Eva vows to go big and prove him wrong. With her athletic background, she's an ideal candidate for stunt work. But first she'll need training, and the instructor is none other than her former hookup, Anthony Castillo. Except he's not as cocky as she remembers and he's definitely still sexy as sin. The only problem is . . . Anthony doesn't want her anywhere near his stunt school—or his heart.
This book was so good.  Definitely my favorite in the series so far. The two main protagonists, Eva & Anthony, had great chemistry with each other. I love how they just can't help themselves. They're like two magnets drawn towards each other despite their protests.
I adored the romance in Crashing Into Her. It has great pacing, lots of banter, and some really fabulous sexy times. Eva was my fave Sosa heroine thus far. Her humor, her sarcasm, her point of view on things were really interesting. Anthony was another fantastic hero by Mia Sosa. I just can't say enough about how much I liked these two characters. They're perfect for each other!
The romance again was exceptional. Mia Sosa made me care about these characters and their feelings for each other. I was invested in seeing things through. I was invested in their relationship from the get and the sweet resolution in the end was all worth it.
Seriously though, if you haven't read Mia Sosa's book yet, you're missing out.