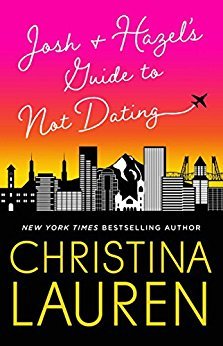 Josh and Hazel's Guide to Not Dating

by Christina Lauren
Published by Gallery Books on September 4, 2018
Genres: Contemporary Romance
Goodreads


Hazel Camille Bradford knows she's a lot to take—and frankly, most men aren't up to the challenge. If her army of pets and thrill for the absurd don't send them running, her lack of filter means she'll say exactly the wrong thing in a delicate moment. Their loss. She's a good soul in search of honest fun.

Josh Im has known Hazel since college, where her zany playfulness proved completely incompatible with his mellow restraint. From the first night they met—when she gracelessly threw up on his shoes—to when she sent him an unintelligible email while in a post-surgical haze, Josh has always thought of Hazel more as a spectacle than a peer. But now, ten years later, after a cheating girlfriend has turned his life upside down, going out with Hazel is a breath of fresh air.

Not that Josh and Hazel date. At least, not each other. Because setting each other up on progressively terrible double blind dates means there's nothing between them...right?
Christina Lauren delivered another feel-good love story that will leave you warm your hearts. This time, it's between a free-spirited, no filter Hazel and a stoic, no-nonsense Josh.
Josh and Hazel met each other in college. And Josh witnessed firsthand some of Hazel's penchant for outlandish behavior. Hazel's crush on Josh remains unrequited. They reconnected again through Emma, who happens to be Hazel's best friend and co-worker. This time, they're older but one thing remains true, at least for Hazel, Josh Im is still her unattainable ideal, and as much as she'd love Josh to see as more than a friend, Hazel is content. She also wants Josh happy. So when Josh's long term relationship ended, Hazel volunteered to guide Josh back into the dating world.
It become very clearly quite immediately that Hazel would steal everyone's heart in this book. She's zany and without any filter whatsoever, and I loved her. Despite being written as a crazy fun character who says what's on her mind without any second thoughts, Hazel is a capable and responsible adult. Free spirited doesn't equal a hot mess or incapable of holding down a job and I liked how the authors respected Hazel's character to give her complexity. She is a character with hopes and dreams and she's damn good at her job!
And then of course, there is Josh Im. Serious and quiet, he's the exact opposite of Hazel on paper, but as the reader will soon discover, Josh and Hazel actually have a lot more in common than people think. I adored Josh. His patience and his understanding, and the way he came to value Hazel for who she is was amazing to read.
If you love the opposite attracts type of stories, I highly recommend this gem. I adored the heck out of this book and its characters. Two thumbs up!