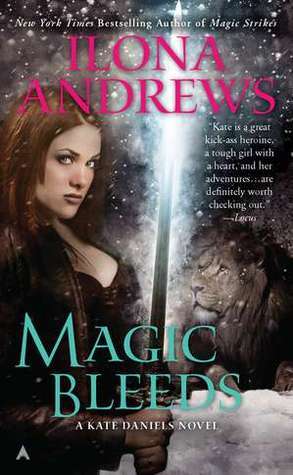 Magic Bleeds (Kate Daniels, #4)

by Ilona Andrews
Series: Kate Daniels #4
Published by Ace on May 25th 2010
Genres: Urban Fantasy
Pages: 388
Goodreads


Atlanta would be a nice place to live, if it weren't for the magic. When the magic is up, rogue mages cast their spells and monsters appear, while guns refuse to fire and cars fail to start. But then technology returns, and the magic recedes as unpredictably as it arose.

Kate Daniels works for the Order of Knights of Merciful Aid, officially, as a liaison with the mercenary guild. Unofficially, she cleans up the paranormal problems no one else wants to handle—especially if they involve Atlanta's shapeshifting community.

When she's called in to investigate a fight at the Steel Horse, a bar on the border between the territories of the shapeshifters and the necromancers, Kate quickly discovers there's a new player in town. One who's been around for thousands of years—and rode to war at the side of Kate's father.

This foe may be too much even for Kate and Curran, the Beast Lord, to handle. Because this time Kate will be taking on family…
Review
"I can't give you the white picket fence, and if I did, you'd set it on fire."

What can I say? Another amazing installment in the Kate Daniels series!!!
Kate Daniels, mercenary and psuedo Knight of the order gets to meet a long lost family member. It should've been a happy family reunion but this is Kate Daniels we're talking about and to say that her family is just dysfunctional is an UNDERSTATEMENT!
The stakes just keeps getting higher and Kate is confronting bigger and more powerful beings. Man, the action in this book is top notch. There are so many moments where I don't even know if Kate and Curran would come out of it alive.

"Don't die on me, you stupid sonovabitch. You goddamn fucking idiot. I told you to stay out of the damn fight! Why the hell don't you ever listen? I fucking hate you. I hate you, you hear me? Don't you dare die on me, because I need to kill you with my bare hands."
There's also politics and intrigue added to the mix. In the hands of less skilled writers, this book would've feel bloated but Gordon and Ilona have proven themselves adept at juggling storylines. But where they really shine is with their characters.
Again, we see growth with each and every character in this series. Kate has changed. She's still Kate but with each and every book, we get to see her make tough decisions. There's a really powerful scene in this book where we see Kate struggle with a decision between doing what she was taught to do and doing what was right. That scene was so powerful to me because it speaks of who Kate is and I know I sound like a broken record here but man, she's such an amazing hero.

"The stairs ended. I wished I knew the jackass who'd made the staircase so short. I'd throw him down the damn steps so he could count them with his head."
But what really makes this book special is the romance department. Look, I'm not one of those people who thinks that a badass heroine becomes less of a badass because she wants love or falls in love with the hero. Nope. I'm firmly in the "heroines can fall in love and still be a badass because we can do whatever the fuck we want" camp. And Kate does what she wants. And she wants the Beast Lord. And I can totally get behind that because while Curran might be overbearing at times, he is learning and making comprises with Kate.

"You might want to decide fast. We live in a dangerous world. If you see a chance to be happy, you have to fight for it, so later you have no regrets."
I love how they negotiated and compromised with each other. They are both stubborn. Both are alpha. Kate has baggage, so does Curran and they both have identities outside of each other. Curran's life is with the pack, while Kate was a loner. She doesn't belong to anyone. It would've been a disservice to Kate's character if she suddenly becomes subservient to Curran and vice versa. But somehow Ilona Andrews made it work. That doesn't mean they didn't make mistakes. They made plenty of mistakes. They had their share of jealous fits and misunderstanding but the way the authors handled their conflict was wonderful.
Mad gold eyes stared into mine. "Do you miss me, Kate?"
I closed my eyes trying to shut him out. I could lie then we would be back to square one. Nothing would be resolved. I'd still be alone, hating him and wanting him.
He grabbed my shoulders and shook me once. "Do you miss me?"
I took the plunge. "Yes."

I've never re-read 4 straight books in a series before. Never. I tend to get bored easily even with series I love. But this is just too good to put down. So I'm off to read book 5.

"I gave him my hard stare. "You're a control freak and I fight all authority. And you want us to mate?"
A wicked spark lit his eyes. "Many, many times."