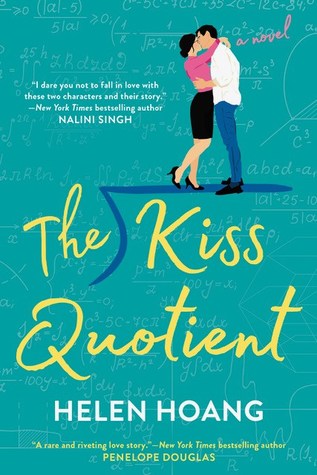 The Kiss Quotient (The Kiss Quotient, #1)

by Helen Hoang
Published by Berkley on June 5th 2018
Pages: 336
Amazon
Goodreads


A heartwarming and refreshing debut novel that proves one thing: there's not enough data in the world to predict what will make your heart tick.

Stella Lane thinks math is the only thing that unites the universe. She comes up with algorithms to predict customer purchases--a job that has given her more money than she knows what to do with, and way less experience in the dating department than the average thirty-year-old.

It doesn't help that Stella has Asperger's and French kissing reminds her of a shark getting its teeth cleaned by pilot fish. Her conclusion: she needs lots of practice--with a professional. Which is why she hires escort Michael Phan. The Vietnamese and Swedish stunner can't afford to turn down Stella's offer, and agrees to help her check off all the boxes on her lesson plan--from foreplay to more-than-missionary position...

Before long, Stella not only learns to appreciate his kisses, but to crave all the other things he's making her feel. Soon, their no-nonsense partnership starts making a strange kind of sense. And the pattern that emerges will convince Stella that love is the best kind of logic...
"I like you better than calculus, and math is the only thing that unites the universe."
Oh my gosh, this book!
I've seen my friends gush about Helen Hoang's debut for a month or so, and being a contrarian that I am, I tried to temper my expectations. I've been here before. Everyone I know loved a book and I'm like, 'meh'. But that's not the case here.
The Kiss Quotient not only met my expectations, IT EXCEEDED IT!
I finished this book with a huge grin on my face (always a good sign) and full heart. These characters that Hoang brought to life in the pages of her book made me laugh, cry, and fall in love with them.
"You're very good at the talking part."
"I've had sex. There isn't a talking part."
A spark danced in his eyes. "There's definitely a talking part."
Stella Lane is magnificent as Hoang's heroine. She's beautiful, smart, and kind. Her motivations were so wonderfully written and explored by the author that there's really nothing I can say except, WOW. I just fell in love with her character just like Michael did.
And speaking Michael? Oh man, easily one of the best romance heroes ever. And I don't say this lightly. Michael Larsen is a cinnamon roll. Sweet and gooey and perfect for Stella! He might be the sweetest and softest hero but he also owns one of the dirtiest mouth out there. In other words, he's perfect.
"Love, he found, was a jail. It trapped, and it clipped wings. It dragged you down, forced you to places you didn't want to go."
In all seriousness though, this book is definitely one of the best I've read this year. Everything about it worked for me. The romance was excellent. The characters were multi-dimensional, even the secondary ones (please give us Quan's book, please?), were interesting and had motivations you can relate to. And lastly, don't let the pretty pastel cover fool you 'cause this book is super steamy in the best way possible.
So yeah, I dig everything about this book and I hope you would read it and dig it too.
"All the things that make you different make you perfect."