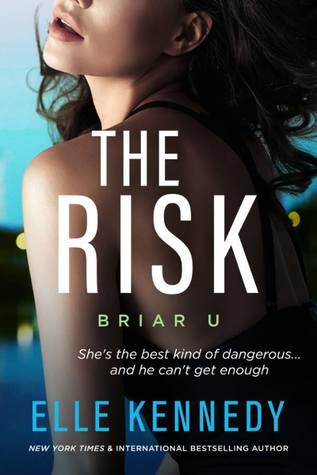 The Risk (Briar U #2)

by Elle Kennedy
Series: Briar U #2
on February 18th 2019
Genres: New Adult
Amazon
Goodreads



A sexy standalone novel from New York Times and international bestselling author Elle Kennedy. THE RISK takes you back to the world of hot hockey players, feisty heroines, bro banter, and steamy scenes...

Everyone says I'm a bad girl. They're only partly right—I don't let fear rule me, and I certainly don't care what people think. But I draw the line at sleeping with the enemy. As the daughter of Briar's head hockey coach, I'd be vilified if I hooked up with a player from a rival team.
And that's who Jake Connelly is. Harvard's star forward is arrogant, annoying, and too attractive for his own good. But fate is cruel—I require his help to secure a much-coveted internship, and the sexy jerk isn't making it easy for me.
I need Connelly to be my fake boyfriend.
For every fake date…he wants a real one.
Which means this bad girl is in big trouble. Nothing good can come from sneaking around with Jake Connelly. My father would kill me, my friends will revolt, and my post-college career is on the line. But while it's getting harder and harder to resist Jake's oozing sex appeal and cocky grin, I refuse to fall for him.
That's the one risk I'm not willing to take.
Content & Trigger warning: View Spoiler »Miscarriage and drug abuse « Hide Spoiler[miscarriage, drug use (hide spoiler)]
The Risk proves that no matter how many times a trope has been done to death, at the hands of a skilled writer, it will still feel fresh and new every single time. This book is Elle Kennedy in her element.
The Risk is Brenna and Jake's book. It's part forbidden love and part fake dating trope. Jake Connelly is the captain of the rival hockey team while Brenna is the coach's daughter of Briar U hockey. The moment these two met in The Chase, there's no doubt in our minds that they'll get together. The only question is when & how?
Well, Elle Kennedy gave us the when & how in this book and I really enjoyed the heck out of it.
Jake and Brenna's chemistry is sizzling hot. These two set the pages on fire. And what I liked aside from the attraction they had is the humor and the banter between them. Banter is where Kennedy truly shines. And in The Risk, she outdid herself. The dialogue between Brenna and Jake was simply delicious. I found myself laughing out loud at their repartee. It's cute & funny & most of all, they talk like witty college kids.
But the volley of wits and humor isn't confined between Jake and Brenna but to the secondary characters as well. This isn't a long book but somehow, the author managed to give all the secondary characters personalities that makes you want to know more about them. Every character interaction served to further the plot and the characters' development.
One of the standout secondary characters was Coach Jensen. He's been in the books since the Off Campus but we never really got to know him outside his hardass coach persona. Here we get a glimpse of who he is and his relationship with Brenna plays a crucial role to the story.
Another standout is a new character that could have easily gone so wrong & would send readers into major apoplexy but for me, this character's addition worked.
There are other characters that I won't get into because their roles aren't really significant but they provided levity and humor to the story. And man, levity is much needed in this book. There were some really hard to read moments. Hard to read not because they're badly written but because they're very real and serious issues. I personally liked how Kennedy handled it. It wasn't trivialized but it didn't overwhelm the romance either.
And the romance was aces! I appreciated how the relationship between Jake and Brenna progressed. I know I complain about the romance being told instead of shown. This book didn't have that problem.
The Risk is far from perfect though. There were some personal pet peeves that I still found irritating but there was just so much goodness in this book that I could really ignore those minor irritants.
So do I recommend this? YES, I DO! Even if you didn't like The Chase, which I wasn't too crazy about either, I reckon you guys would like and even love this book. It's just better plotted, well paced with better characters overall. Jake and Brenna are definitely one of my faves up there with the Garrett-Hannah and Dean-Ally pairing.
ARC provided by the author