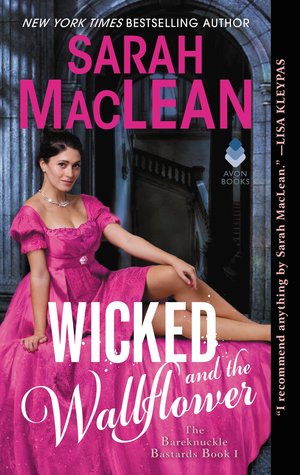 Wicked and the Wallflower (The Bareknuckle Bastards, #1)

by Sarah MacLean
Published by Avon on June 19th 2018
Genres: Historical Romance
Pages: 396
Amazon | iBooks | B&N | Google Books
Goodreads


When Wicked Comes Calling...

When a mysterious stranger finds his way into her bedchamber and offers his help in landing a duke, Lady Felicity Faircloth agrees—on one condition. She's seen enough of the world to believe in passion, and won't accept a marriage without it.

The Wallflower Makes a Dangerous Bargain...

Bastard son of a duke and king of London's dark streets, Devil has spent a lifetime wielding power and seizing opportunity, and the spinster wallflower is everything he needs to exact a revenge years in the making. All he must do is turn the plain little mouse into an irresistible temptress, set his trap, and destroy his enemy.

For the Promise of Passion...

But there's nothing plain about Felicity Faircloth, who quickly decides she'd rather have Devil than another. Soon, Devil's carefully laid plans are in chaos, and he must choose between everything he's ever wanted...and the only thing he's ever desired.
My Review
Sarah MacLean's new Bareknucle Bastards series is off to a strong start with Wicked and the Wallflower. It's a passionate and intriguing tale of three brothers who're bound by the secrets of their pasts.
"You don't need lessons in fire. You are an inferno."
Wicked and the Wallflower is about the first brother, Devon, known as Devil to everyone—friends and enemies alike. Devil immediately captures the attention. At the start of the book, his only goal was to uphold a promise from his past but it's how he goes about achieving those goals that put him immediately in the anti-hero category for me.
In spite of that, Sarah MacLean was convincing in her campaign to show her readers that Devil deserves the heroine and a HEA. One of the reasons for this is the heroine Felicity Faircloth.
Felicity Faircloth was perfection—the first taste of it Devil had ever had.
She was Devil's equal and his perfect foil. She is innocent but she's far from naïve. Felicity is similar to Devil is some ways. She was relegated to the fringes of polite society, just like Devil. But unlike Devil, she wanted to be a part of it. So when Devil offered her a chance to be a part of the ton, she took the chance, not knowing that it's going to bring her ruination once again.
"If I were going to take advantage of you, I would approach from the front, Felicity Faircloth. In full view, so you would have the joy of expecting me."
I loved how Devil and Felicity interacted with each other. Brilliantly written dialogue is one of MacLean's skill, and it's on full display here. You could feel the sexual tension and the chemistry in each of those encounters. Aside from that, there's a lot of longing in this book! One of the things that make for a grand romance is to have two characters who desperately want each other but their circumstances and their own fears are keeping them apart. Hence, the longing. Devil and Felicity's longing for each other will make you sigh and swoon at the same time.
I also enjoyed how Devil's interactions with his siblings. You can sense their shared pain and history together. Their dysfunction is evident and Sarah MacLean is a master at giving us a taste of what's coming. And just based on what she showed us about Whit and Ewan and Grace, I'm already mentally lining up for the next books in the series.
"I'm going to steal you," he confessed again. "I'm going to steal you and make you mine."
Wicked and the Wallflower is very character driven. Yes, there's a plot but it's not what drives the story forward; it's the characters and their motivations. There's also a lot of intrigue and secrets that I feel would come into play in later books. The seeds are there, and I'm excited to see where it leads.
Fans of Sarah MacLean and historical romances will find plenty of things to enjoy in this book. The characters, the romance and the intrigue will keep you entertained and make you swoon like a romance novel should. I highly recommend it.